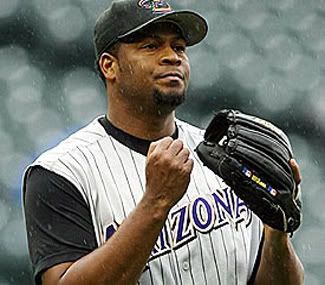 The Florida Marlins waited until the last minute to find a closer when they acquired Jorge Julio and some cash from the Arizona Diamondbacks for Yusmeiro Petit on Monday.

It may have been in Julio's cards to come to Florida since 2005, while the righty was still with the Orioles. Nearing the July 31st trade deadline, rumors were flying about sending A.J. Burnett to Baltimore. Julio was supposed to be part of that package, but the deal fell through.

Julio is a career 13-28 with a 4.20 ERA over six seasons and has an impressive 345 strikeouts in 357.2 innings.


The 22-year-old Petit was in contention for the Marlins' fifth starter spot, which is now Sergio Mitre's. A year ago, Petit spent 81 days in the big leagues, mostly as a long reliever. He appeared in 15 games, including one start, and was 1-1 with a 9.57 ERA. At , he went 4-6 with a 4.28 ERA in 17 games.

[MLB News]