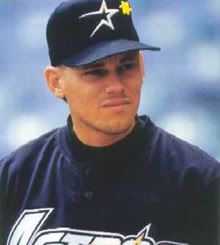 Houston Astros second baseman Craig Biggio was angry with the commissioner's office Thursday night after he was told to stop wearing a pin on his cap that bears the logo of a the Sunshine Kids, a foundation that helps children with cancer.

Biggio, the national spokesman for the foundation, said he has worn the bright yellow, sun-shaped pin on his hat every spring for the past 20 years without a problem.

"I'm not a disrespectful person and I don't disrespect the game," Biggio said. "But I've been wearing this pin for 20 years because it puts smiles on 20,000-something cancer patients' faces."
Houston general manager Tim Purpura was sent a fax from the Commissioner's office with a picture of Biggio from Wednesday night's game, instructing the player to keep it off his cap permanently. He was told to take it off during warmups and the umpires even approached him to make sure it was gone.
Biggio says he wears the pin during spring training because many of the pictures for baseball cards are taken during those games and the children like seeing the pin on those cards. Is that so terrible?
[
Houston Chronicle
] | [
Sunshine Kids
]