Awful news out of California today, as Los Angeles Angels pitcher Nick Adenhart was killed in a hit-and-run accident in Fullerton early Thursday morning.

According to the LA Times and TMZ, Adenhart was driving home with three others when a mini-van ran a red light and hit his Mitzubishi, causing it to slam into a light pole. Two of his passengers died on the scene and the third was pronounced dead at the hospital. One of the passengers was Henry Pearson, a close friend of Matt Clapp from Sharapova's Thigh. Read his heart-wrenching tribute to his best friend here. The driver of the mini-van fled the scene, but was later apprehended by police and charged with felony hit-and-run.

The 22-year-old righty was drafted by the Angels in 14th Round -- 413rd overall -- of the 2004 MLB Draft. He became a top-ranked prospect in the organization, positioned as the 90th best prospect in baseball by Baseball America and the best prospect in the Angels organization heading into this season.

Adenhart started for the Halos Wednesday night, earning a no-decision while fanning five over six scoreless innings in the team's 6-4 loss to the Oakland Athletics. He earned his first career victory in his 2008 rookie season at home on May 12 over the Chicago White Sox, allowing four earned runs in 5+ innings en route to a 10-7 Angels victory.

Our thoughts and prayers go out to Adenhart's family and friends, along with the entire Angels' organization, which was already dealing with the death of a fan involved in an Opening Day brawl.

A fan-made memorial for Adenhart outside Angel Stadium...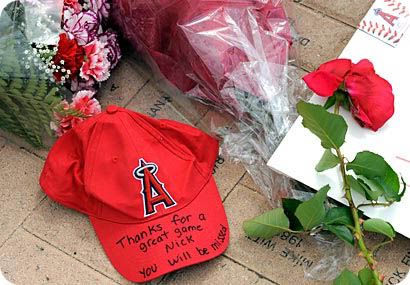 Here's regarding the murderous drunk driver, who had prior DUI convictions.

[LA Times] | [Fantasy Pros 911] | [Fanhouse] | [Walkoff Walk] | [Dave Lozo]