If we were in Japan right now, Ichiro Suzuki's record-tying hit Wednesday would be a very, very big deal. I mean, it's still a pretty big deal, but it was sort of over-shadowed by the awesomeness of Ken Griffey Jr.'s 400th bomb as a Seattle Mariner.

Isao Harimoto's 3,085 hits (a lone, long-standing Japanese record until yesterday) was knotted up after Ichiro went 2-for-5 including a grand slam in the bottom of the seventh during his team's 11-3 victory over the Los Angeles Angels.

I wonder if Japan will count him as the hits leader in their country's record books once he passes Isao? I also sometimes wonder if Japanese sportsbooks, like ours, offer indredibly high odds on him getting a hit almost as often as Jim Leyland burns a heater? Technically, Ichiro only had 1,278 hits while playing for the Orix Blue Wave from 1992-2000 before adding 1,807 more for the Mariners. Ah, the great debate. Isao himself believes the record should count.
"Yes, it's a real record. Actually, when he was in Japan, I told him that he was going to break my record," he said. "That was probably like 15 years ago... At that time I could tell Ichiro was already really good."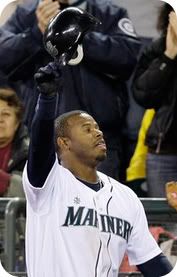 As earlier mentioned, Junior banged out his 400th home run in a Mariners uniform last night, which is also pretty sweet. Last night's homer off Jared Weaver marked his first at Safeco Field since 1999 as a member of the home team, though he hit two there for the Cincinnati Reds as a visitor in 2007.

After rounding the bags and celebrating his 613th career longball in the dugout, he came back out for the curtain call, tipping his cap to the 18,516 standing fans.

[Seattle PI] | [Japan Today] | [Baseball Musings]