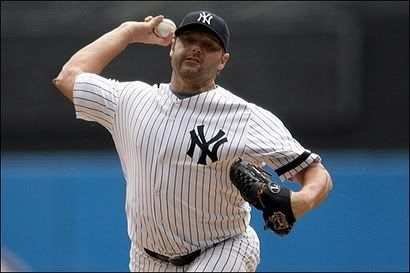 Roger Clemens
and his enormous gut
(1-0, 4.50 ERA), pitching in pinstripes for the first time in four years, labored through the first few innings but found his groove eventually. He struck out seven in six good innings and retired his final seven batters, punctuated by a fist pump.
The 44-year-old Rocket allowed three runs, five hits and two walks against the lethargic
Pittsburgh Pirates
, who entered with the lowest on-base percentage in the National League at .312.
Alex Rodriguez
drove in two runs for the
Yankees
, who have also found their way, winning a season-best five straight and 8 of 10 overall.
Robinson Cano
had three hits, driving in one run and
Bobby Abreu
went 2-for-4 with an RBI.
Johnny Damon
and
Jorge Posada
also had an RBI a piece.
Pirates starter
Paul Maholm
(2-9, 5.33 ERA) tossed 5.1 innings and gave up 5 runs - 3 earned - on six hits with 3 strikeouts and five walks.
Shortstop
Jack Wilson
went 2-for-4 with 2 RBI and
Adam LaRoche
drove in the other Pittsburgh run.
[
MLB
]