Who needs an opponent when you can just fight each other?

Carlos Zambrano and his battery mate, Michael Barrett shoved each other in the dugout before Big Z busted the catcher's lip in the clubhouse so badly that Barrett wound up in the hospital.

Aaaaaand the Cubs lost 8-5 to the Atlanta Braves.

Zambrano, a rather large man, was seen pointing to his head and yelling at the catcher in the dugout before the bottom half, while Barrett pointed toward the field. Shoving ensued and Zambrano - Thursday being his 26th birthday - cocked his right fist as they were being separated.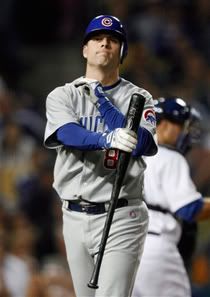 Lou Piniella, not to be outdone, told Zambrano to take a cold shower and go home before the manager returned to the dugout. Just moments later, a clubhouse attendant whispered something into Piniella's ear and Derrek Lee jumped up and headed into the tunnel, with Piniella and pitching coach Larry Rothschild close behind.

Turns out, the beating continued in the clubhouse, where Barrett pretty much got his ass kicked: two black eyes and a busted mouth, which needed stitches.

Both players will be disciplined for their idiocy and seriously, I hope Barrett will think hard next time he considers a passed ball.

See the video on SOX & Dawgs!

[Awful Announcing] | [MLB.com] | []