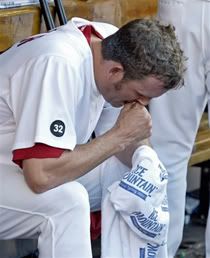 It's been a hard season for the defending World Series Champion
St. Louis Cardinals'
so far, and it's not getting any easier.
The club placed center fielder
Jim Edmonds
and right-handed pitcher
Braden Looper
on the 15-day disabled list today, both moves retroactive to Saturday.
Looper, who has a strained right shoulder, left Friday's game against the
Oakland Athletics
in the fifth inning. He was 6-6 with a 4.66 ERA.
Edmonds, who is sidelined with a pinched nerve in his lower back, is batting .238 with seven home runs and 24 RBIs.
To fill the roster spots, St. Louis recalled outfielder
Skip Schumaker
and lefty
Troy Cate
from the AAA
Memphis Redbirds
.
Schumaker was batting .314 with five homers and 14 RBIs in 30 games for Memphis while Cate, who has already appeared in two games for the Cardinals this year, is 1-5 with a 5.40 minor league ERA.