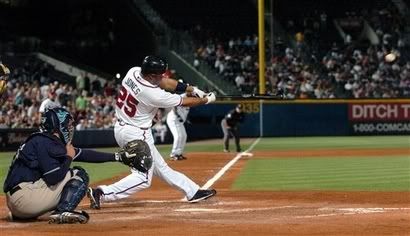 Atlanta Braves
nine-time Gold Glover
Andrew Jones
is in the midst of one of the longest slumps of his career. Bad timing, Andruw: this is your make-or-break season. You should be selling your talent for all that it's worth.
And it's bad. It got to the point where on Sunday,
Bobby Cox
dropped him to sixth in the batting order.
Jones then earned a
platinum sombrero
in the 6-3 loss. The final of his five strikeouts came with two on and two out in the bottom of the ninth - a situation in which you'd trust few other men more than Jones last season. He was called out swinging on a high fastball to end the game.
One point of blame for Jones' slump would be his lower back injury, which has obviously affected his swing. The slugger is batting just .212 with six homers this season, but has still managed to drive in 30 runs. Swing much? He's struck out 51 times in his last 156 at-bats.
This month, he is hitting a whopping .147 and has whiffed 15 times in the last seven games. A pretty slow start for a career .265 hitter who has nailed at least 31 bombs every year besides two.
"This is the first time I'm not hitting good in May, so hopefully when it's past I'll get in a groove and put up good numbers," Jones responded.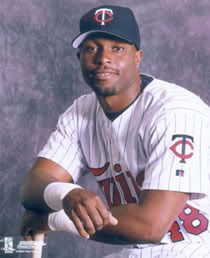 Minnesota Twins
center fielder
Torri Hunter
is on the complete opposite end of the hitting spectrum.
Hunter, who is like the of this generation, is just rolling through his contract year. He's swinging about the hottest bat he's ever swung, batting .318 with 36 RBIs and 10 homers, including two grand slams. May 14th against the division rival
Tigers
, he hit two bombs and drove in a career-high and big league-best seven RBIs.
It's officially the hottest start ever for Torii, who would like to stay with the Twins if they could only afford to pay the six-time Gold Glover.
But the contract year phenomenon doesn't happen for everyone, and it's apparently not working for Mr. Jones in Atlanta. A great contract year can mean instant financial security, which should add to the players' motivation. If hindered by injury, free agency can turn into a nightmare.
Jones probably doesn't have much to worry about, though. The last time Andruw hovered near free agency, he and his father went behind his agent,
Scott Boras'
back to negotiate a six-year, $75 million deal... a bit below market value.
[
Eyewitness News
] | [
Atlanta Journal-Constitution
] | []