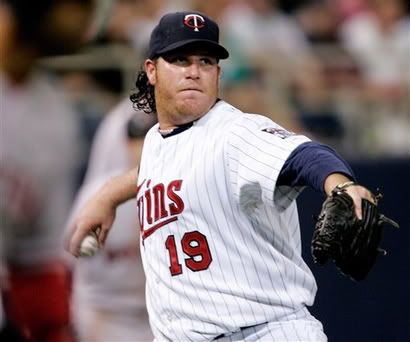 The Minnesota Twins released right-hander Sidney Ponson today.

...and a collective sigh of relief echos throughout 10,000 lakes country.

It's funny how organizations sometimes have such strong faith in their players, because fans gave up on Sir Sidney long ago.

Maybe it was his 2-5 record or an ERA that was about as big as his beer belly (.693). Could it have been the 17 walks or 1.88 WHIP? Surely not!

I'm guessing it was the increase in the cost of laundering the massive pile of towels he used to wipe his sweat between innings that pushed Terry Ryan over the edge.

The one-year plan that the Twins and Ponson put together this winter unraveled quickly this season, as he was nowhere near providing the veteran support Minnesota's starting rotation desperately needed.

So long, Sid. Don't let the clubhouse door hit your husky ass on the way out.


As far as a replacement for Ponson goes, lefty Glen Perkins may be the first, since he has pitched pretty well out of the bullpen so far this season. He took over for Ponson on Saturday night, allowing two runs on three hits in four innings.

The club also has several promising arms down with the AAA Rochester Red Wings in Scott Baker, Matt Garza and Kevin Slowey.

[MSNBC]