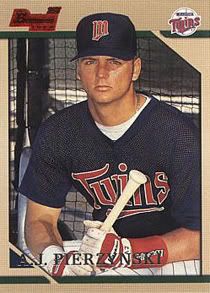 Really, we've been trying to avoid the whole A.J. Pierzynski circus around here. Okay, we haven't. We've just been stewing. Waiting. And since he's not playing today, we'll take our shots now.

I'm watching the game right now - the Sox are ahead of the Twins 4-1 6-1 6-4 in the third - and so far this series, every time A.J. comes to the plate he gets booed like he never wore #26 in Minnesota. He even gets booed when he warms up the pitchers.

The controversial Chicago White Sox catcher, generally known as a total a-hole, seems to creates controversy on a regular basis. Whether it's his brazen approach to the game, outspoken comments, or faux-wrestling on Pay-Per-View, he rubs people the wrong way - maybe even the good people of Chicago.

And by the good people of Chicago, I mean his manager Ozzie Guillen, of course.

Last night, Pierzynski added some fuel to the fire that is Minnesota's hatred for him when he apparently tried to spike MVP Justin Morneau in a rundown at first. Ozzie was not thrilled. After years of defending his catcher, Guillen's patience could be wearing thin.

"Is he a good guy? No," Guillen said. "But I love him. He knows I love him. I've got a hate-love for him. "He respects me, he respects my ballclub, he gives us a headache every day. A good one, though. Because he wants to do good. He wants the ballclub to do good."
Moments later, he asked a security guard to "get A.J. the fuck out of [his] office."
Pierzynski normally thrives on the criticism he gets, but he is worried his teammates may be running out of patience. He says he'd love to stay in Chicago, but he worries fans and teammates see his presence as more of a distraction than he'd like to admit. But are his feelings hurt? Hell no.
"I can handle people talking shit or whatever, it doesn't bother me. I've pretty much had it all said or written about me anyway."
He apologized for his sixth-inning collision with Morneau but of course, insisted he did not intend to hurt my Canadian Crusher.
"Let's be honest here - if I'm going to go out of my way to try to get somebody, I'll get them," he said.
Psst...
the Twinkies pulled this one off in the bottom of the ninth with the bags loaded when
David Aardsma
walked
Torii Hunter
for the winning run.
[
Chicago Sun Times
] | []