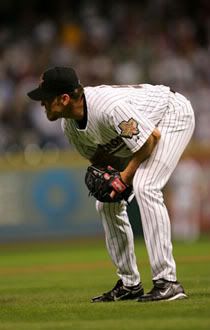 One week of baseball goes by and Brad Lidge has already been replaced.

The Houston Astros relieved the right-hander of his closing duties Monday, replacing him with Dan Wheeler. This could have everything or nothing to do with Lidge giving up five runs in 2/3 of an inning against the St. Louis Cardinals the day before.

Lidge has saved 29 or more games in each of the last three seasons for Houston, entered Monday's game against the Chicago Cubs with a 16.20 ERA along with a shiny new blown save to help the Astros begin their season losing five out of six games.

Houston manager Phil Garner wrestled with the decision to demote Lidge all day Sunday, saying he "felt that [he] had to make this move for the benefit of the team."

Lidge went 1-5 with a 5.28 ERA, converting 32 of 38 save opportunities last season. He will now move to middle relief, with the possibility of regaining his job if he begins to show significant improvement.


Dan Wheeler is only half as terrible: 0-1 with a 9.00 ERA in three games.

[ABC Sports]