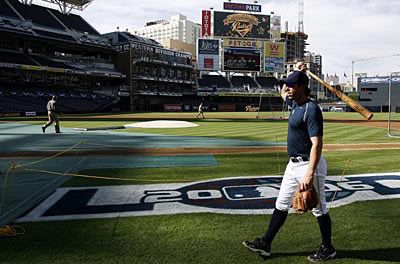 The MLB Players Association is looking into the release of (former) San Diego Padres infielder Todd Walker, his agent said in a statement Tuesday.

The union is questioning the Padres' motives for releasing Walker and are looking into making sure the move had nothing to do with the $3.95 million in arbitration he won last month. Conveniently, by releasing Walker before March 28th, the were responsible only for termination pay in the amount of $987,500.

Walker was hitting .225 this spring, and the Padres claim they released him due to an excess of left-handed infielders that were expected to make the opening day roster. Namely Russell Branyan and Geoff Blum.

"We felt there were better fits on our club than Walker," GM Kevin Towers said Monday.
The MLBPA could find it rather difficult to prove the Padres had a self-serving, money-saving motive for Walker's release without substantial evidence. It's not like he was hitting lights out this spring...
[
MLB News
]