Padres 24, Rangers 7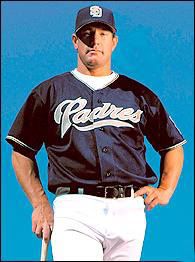 That's not a typo. The
Texas Rangers
actually allowed the
San Diego Padres
to score 24 runs on Tuesday.
Greg Maddux
looks as ready as he'll ever be to begin the season, after his longest outing of the spring. The veteran gave up four hits and struck out five over six innings, while the Padres nailed a spring-high 25 hits.
Texas' pitching might need some work, however. With 30 mph gusts of wind, your starters better have some control and location.
Kevin Millwood
gave up 12 hits and nine earned runs over 4.1 innings and reliever
Eric Gagne
allowed four runs and five hits in one 20-pitch inning. Lefty reliever
Ron Mahay
got just one out while getting roughed up for seven runs of his own.
Russell Branyan
had four hits and five RBIs for San Diego, including his fourth and fifth homers of the spring.
Adrian Gonzalez
and
Terrmel Sledge
each had three hits, with Gonzalez hitting his fifth spring homer and driving in three runs.
Twins 4, Yankees 3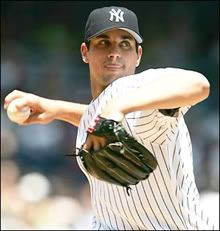 Carl Pavano
allowed two runs, six hits and a walk, inducing four double-play grounders over six innings in the
New York Yankees'
4-3 loss to the
Minnesota Twins
, possibly making
Joe Torre's
Opening Day starter decision a bit easier.
If Pavano gets the ball against
Tampa Bay
on April 2nd, it will complete a huge comeback, as the righty hasn't pitched in the big leagues since June of 2005 due to a laundry list of injuries.
The Yankees led 3-2 heading into the bottom of the ninth, but
Matt Tolbert
tied it with an RBI single and scored the winning run from second when Yankees second baseman
Chris Basak
misplayed a
Toby Gardenhire
grounder for an error. Toby is, of course, the son of Twins manager
Ron Gardenhire
.
Starter
Boof Bonser
gave up two runs and four hits in six innings for Minnesota, striking out seven and walking two. Bonser has buckled down since his March 3rd outing where he gave up three runs and five hits in one inning, lowering his spring ERA to 2.86 Tuesday.
Bobby Abreu
hit a solo shot for the Yanks and
Josh Phelps
, a possible backup first baseman, had a home run and an RBI single.
Andy Phillips
, competing with Phelps, went 0-for-4 with four strikeouts. Phillips, here is
your honorary Golden Sombrero
. You suck.
Astros 8, Indians 7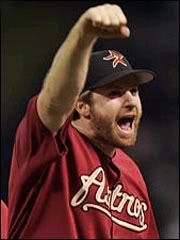 Morgan Ensberg
went 1-for-3 with a homer to help the
Houston Astros
beat the
Cleveland Indians
8-7 in 10 innings.
Adam Everett
drove in two runs and
Lance Berkman
went 2-for-4 for the Astros, who finished with 11 hits.
Right-hander
Chris Sampson
, still in the mix for Houston's final rotation spot, allowed one run and three hits in five innings. After letting the first two batters reach base, Sampson settled down, retiring the next ten that he faced. That gives him a 5.62 ERA this spring, a number inflated by a March 22nd start against
Washington
where he allowed six earned runs in just 2.1 innings.
Sampson is competing with
Matt Albers
,
Fernando Nieve
and
Brian Moehler
for the fifth spot in the rotation, as manager
Phil Garner
has yet to make a decision.
Paul Byrd
, Cleveland's #4 starter, pitched 5.2 innings, allowing four earned runs and seven hits.
Casey Blake
and
Luis Rivas
both homered for the Tribe.
Reserve catcher
Humberto Quintero
smoked the game-winning, three-run double to center field in the bottom of the 10th inning.
In other news out of Cleveland, right-handed pitcher
Matt Miller
will miss three to four weeks due to a muscle strain in his right forearm, an injury that seems unrelated to the elbow that kept him out much of the past two seasons.
[
MLB
] | [
MiLB
]