Cardinals 13, Dodgers 0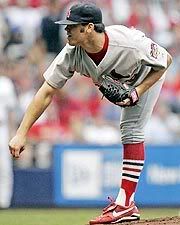 Anthony Reyes
pitched six innings and lowered his ERA to 0.56 Tuesday night in the
St. Louis Cardinals'
13-0 whoopin' over the
Los Angeles Dodgers
. Reyes, who beat
Detroit's
Justin Verlander
in last year's World Series-opening matchup of rookie starters, allowed four hits, striking out one with one walk. Most impressively, he needed just five pitches in the sixth inning.
The Cards held the Dodgers to just six hits, and
Chris Duncan
hit his third longball in three games against Los Angeles.
Preston Wilson
doubled three times.
Dodgers starter
Mark Hendrickson
, who is vying for the fifth rotation spot, allowed four runs and five hits in five innings, striking out one and giving up a home run to
Yadier Molina
with two outs and a runner on base.
The Dodgers have been outscored 27-1 in three straight losses, now.
Rangers 4, Giants 3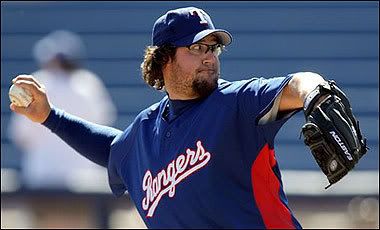 Eric Gagne
, pitching his first game this year, went one inning and gave up a home run to
Kevin Frandsen
in the
Texas Rangers'
4-3 win over the
San Francisco Giants
. Since signing a $6 million, one-year contract with Texas, Gagne is attempting a comeback from elbow and back operations after being limited to 15.1 innings over the last two seasons with the
Los Angeles Dodgers
.
Frandsen, who had three hits, homered on Gagne's fourth pitch of the fifth inning, lining a 70 mph curveball into the left-field bullpen.
Barry Bonds
returned after a three-day hiatus and went 1-for-3 with a 375-foot drive in the sixth off
Akinori Otsuka
that put the Giants ahead 2-1.
Russ Ortiz
, working on becoming the Giants' #5 starter, gave up two runs and four hits in six innings with six strikeouts and one walk.
Nelson Cruz
hit his first two homers of the spring for Texas in consecutive two-hit, two-RBI games after a 2-for-16 slump.
Texas starter
Robinson Tejeda
gave up six hits in four scoreless innings.
Diamondbacks 8, Mariners 1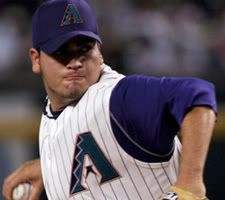 Jeff Weaver
gave up consecutive homers to
Chris Young
and
Stephen Drew
after an RBI-double by
Scott Hairston
in a five-run first inning during the
Seattle Mariners
8-1 loss to the
Arizona Diamondbacks
. Weaver allowed six runs, seven hits and two walks over four innings and has an 8.31 ERA with 12 runs and 18 hits allowed in 13 spring innings.
Arizona starter
Edgar Gonzalez
allowed one run and four hits in five innings, striking out four and walking none. He has given up six earned runs in 13 innings while competing for a slot in the Diamondbacks' rotation.
Minor leaguer
Tony Torcato
homered in Seattle's only run in the fifth inning.
[
MLB
] | [
MiLB
]