Cubs 11, Brewers 7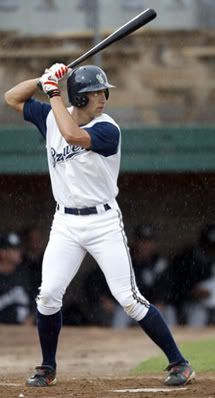 The
Milwaukee Brewers'
rookie third baseman,
Ryan Braun
, hit his fifth home run of the spring, tying for the Cactus League lead, but was sent back to minor league camp Monday after his team's 11-7 loss to a
Chicago Cubs
split squad.
As a 2005 first-round draft pick, he has a good bat, but some real shaky defense, committing his fourth throwing error in the seventh inning. Braun's five longballs came in four games - and he made a throwing error in each one. He will most likely begin the season as the everyday third baseman for
AAA Nashville
.
Cubs prospect
Felix Pie
had three hits to raise his spring training average to .370,
Daryle Ward
drove in four runs with a pair of two-run doubles and
Jacque Jones
hit a three-run homer to lead Chicago.
The Cubs scored five times in the first inning off Milwaukee prospect
Yovani Gallardo
. Pie's one-out triple in the fifth started a two-run rally.
Bill Hall
hit a two-run homer for the Brewers.
Nationals 9, Dodgers 1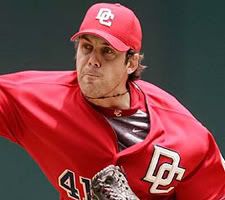 After missing the entire 2005 season due to Tommy John surgery and starting only six games in 2006,
Washington Nationals
starter
Shawn Hill
pitched five scoreless innings in Washington's 9-1 victory over the
Los Angeles Dodgers
. The right-hander, who is slated to be the #2 starter, allowed only four singles, striking out four and walking two while retiring the side in order in the second, third and fifth innings.
Los Angeles starter
Randy Wolf
allowed one hit through four innings, but gave up three runs and three hits in the fifth.
In the eighth, the Nats scored five runs off reliever
Jonathan Broxton
, who started the inning but couldn't get out of trouble before being replaced by
Elmer Dessens
. Broxton walked three and gave up a double to
Kory Casto
along with a two-run single to
Robert Fick
.
Washington's
Chris Snelling
, who is batting .310 while competing for a spot in the outfield, went 1-for-1 with two runs, walking three times.
Nomar Garciaparra
went 2-for-4 with a run and
Larry Bigbie
had two hits and an RBI for the Dodgers.
Royals 4, White Sox 3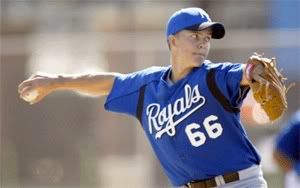 Zack Greinke
allowed two runs, two hits and a walk in five innings, striking out three in
Kansas City's
4-3 victory over the
Chicago White Sox
. Greinke is competing with
Brian Bannister
for the only remaining spot in the Royals' rotation.
An interesting bit of info on Greinke: he says he has learned how to pitch from watching Roger Clemens on television. "He's got really good stuff, but his stuff isn't really incredible. To be as dominant as he is, a lot of it is just being mentally tougher than others. Just watching that showed me a lot. When I watch him pitch, it is hard to understand why he is so dominant," Greinke said.
Octavio Dotel
replaced Greinke in the sixth and struck out five in two scoreless innings.
Ross Gload
homered in the seventh against his former team and
Alex Gonzalez
singled home the go-ahead run in the eighth.
White Sox starter
Adam Russell
held the Royals to five hits and one run over four innings, walking two and striking out four. Lefty
Andrew Sisco
, who was swapped for Gload, allowed one run, three hits and a walk and struck out three in 1.1 innings.
Brian Anderson
homered in the eighth for the White Sox off left-hander
Jimmy Gobble
to tie the score at 3 and
Juan Uribe
had an inside-the-park homer in the second.
[
MLB
] | [
MiLB
]