Cleveland 5, Tampa Bay 0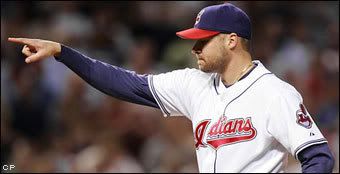 For all of you
Tampa Devil Rays
fans out here, just keep telling yourself that Spring Training games don't matter. Which, technically, they don't. Then again, why is spring the do-or-die time of roster cuts?
Jake Westbrook
and four
Cleveland
relievers allowed only two seventh-inning singles, leading the Indians to a 5-0 win Thursday night over the Devil Rays, who have now lost 13 straight games.
Andy Marte
hit a three-run shot in Cleveland's five-run fifth off
Seth McClung
,
Wyatt Toregas
added an RBI double and
Grady Sizemore
, who came in batting just .125, singled in Cleveland's fifth run.
The D'Rays (1-14) have just one victory in March, one that came in a rain-shortened game against the
Toronto Blue Jays
almost two weeks ago. Tampa Bay's 13-game slide is the majors' longest in the exhibition season since lost 14 in a row in 1998.
Big boss man Stuart Sternberg was on hand to see his lousy club, who lost 101 games last season without much offseason improvement.
Westbrook pitched four scoreless innings, retiring 12 of 13 batters.
Rafael Betancourt
then retired six in a row before the 'Rays got their first hit, a leadoff single in the seventh by
Elijah Dukes
.
Joel Guzman
followed with a single for their only other hit.
Tampa starter
Jae Seo
allowed just one hit in four innings, while adding a two-seam fastball - one that has been difficult for him to master.
Minnesota 4, Baltimore 2
Ramon Ortiz
struck out four and gave up two unearned runs in four innings, helping the
Twins
beat the
Baltimore Orioles
, 4-2. Vying a spot in the rotation, Ortiz's spring ERA is 0.75 after giving up three hits and one walk in front of a sellout crowd of 8,122 at . With how his spring is panning out, he could be placed at second in the rotation in front of
Carlos Silva
and behind
Johan Cytana
.
Orioles starter
Adam Loewen
is also having a solid spring. The 6'-5" lefty, who was the fourth overall pick in the 2002 draft, seems to be more than ready to pitch in the big leagues. He struck out four in four innings, walked one and gave up two hits, including a solo homer by
Michael Cuddyer
. Loewen has a 2.25 ERA this spring after going 6-6 with a 5.37 ERA for Baltimore when he was called up after the All-Star break last season.
Garrett Jones
hit a two-run double in the eighth for Minnesota to break the tie.
Chi Cubs 9, Seattle 3
Alfonso Soriano
had a triple and two singles in a 9-3 win over a
Seattle Mariners
split squad, all but proving he has what it takes to be the
Cubs'
everyday center fielder.
With
Cha Seung Baek
pitching, Soriano led off with a single, then took third when
Jacque Jones
doubled down the left-field line. After Baek struck out
Derrek Lee
and
Aramis Ramirez
,
Cliff Floyd
, easing back into the game after an October surgery to remove bone spurs from his left heel, smacked one over the wall in right for his first home run of the spring.
The Mariners scored two runs against Cubs starter
Ted Lilly
in the second - one on an RBI single by
Wladimir Balentien
and the other on a throwing error by shortstop
Cesar Izturis
.
Ramirez hit his second homer of the spring, a two-run shot in the third inning against Baek, who pitched three innings, giving up seven hits and six runs, striking out four Cubs.
Lilly pitched 3.2 innings, giving up four hits and two runs - one earned - walking one with one strikeout.
Bryan LaHair
was 2-for-3 with a run scored and a walk for the Mariners.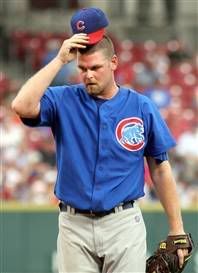 Cubs Injury Update:
Kerry Wood
hasn't pitched since Sunday and will miss at least a couple more days, according to
Lou Piniella
. He has a strain in his right triceps, an injury he suffered while overstriding on the mound during Sunday's game.
Mark Prior
, also rehabbing from shoulder problems, will face minor-league hitters Friday in an intrasquad game. He has struggled through two spring starts, without the faintest idea whether he'll be ready for the Cubs' opener - which could mean no spot on the active roster.
[
MLB
] | [
MiLB
]