Athletics 7, Giants 4
Armando Benitez
, recovering from knee injuries, threw another scoreless inning with one strikeout in the
San Francisco Giants'
7-4 loss to the
Oakland Athletics
on Tuesday night. Benitez blew eight saves last season while dealing with arthritis in his knees and the wrath of fans in the Bay area. The Giants tried to get rid of him this offseason, but his $7.6 million salary and bad knees made it impossible. If he shapes up, he could either close or be used for trade bait.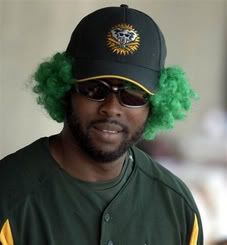 Speaking of knees, Oakland outfielder
Milton Bradley
messed up his right one while taking his base on a wild pitch. With outfielders
Mark Kotsay
and
Bobby Kielty
already on the DL, this is not something the A's can afford. Bradley remained in the game and scored on a double, but came out in the bottom half of the inning with some soreness in the knee.
Giants' starter
Noah Lowry
struggled with his control and mechanics, walking five batters in four innings and allowing three runs and three hits while striking out five.
Dan Haren
struggled as well, allowing three runs, four hits and two walks in 3.1 innings with two wild pitches.
Mets 6, Indians 5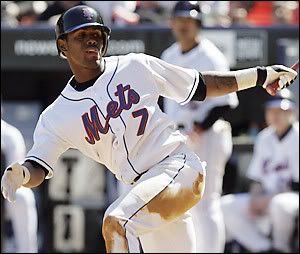 Switch-hitter
Jose Reyes
hit a two-run shot off the
Cleveland
ace
C.C. Sabathia
on Tuesday, helping the
New York Mets
to a 6-5 victory over the Indians. Reyes, who led the majors with 64 steals a year ago, stole his sixth base this spring to go with his three homers, seven RBIs and .375 batting average.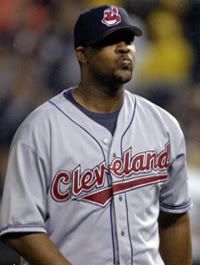 Shawn Green's
longball sparked a four-run second off Sabathia, who had four strikeouts, but allowed four runs on five hits in four innings.
The Mets also got two singles, two stolen bases and had
Damion Easley
reach when third baseman
Hector Luna
misplayed a grounder for one error and threw it wildly for another before he let a foul ball drop along the warning track. Luna has six errors in 10 games, which is not so good if you're trying to squeeze into a utility spot on the Indians' roster.
Second baseman
Ben Francisco
hit his third homer and shortstop
Jhonny Peralta
had an RBI single for Cleveland, which lost in the ninth when
Lino Urdaneta
threw two run-scoring wild pitches.
Fun Fact: A 3-foot black snake slithered across notebooks and laptop computers in the bottom of the fourth inning, freaking out the press, before a grounds crew member was called to release it behind the complex.
Phillies 11, Devil Rays 8
Scott Kazmir
gave up three runs and five hits in four innings with two strikeouts and a walk in the
Devil Rays'
11-8 loss to the
Philadelphia Phillies
. The 23-year-old left-hander was 10-8 with a 3.24 ERA before he sat the entire second half with an inflamed shoulder last season.
Philadelphia has scored more than 10 runs five times so far this spring while Tuesday's loss marks a club-worst 11th straight exhibition defeat for Tampa Bay.
Adam Eaton
allowed two runs and four hits over 3.2 innings in his bid for a spot in the Phillies' starting rotation. Third baseman
Wes Helms
had two hits and drove in a run, going 8-for-19 over six games and non-roster invite
Ron Calloway
hit a fifth-inning grand slam off of right-hander
Dan Miceli
.
Ty Wigginton
had a pair of home runs with three RBIs for the D'Rays, who sit at just 1-12 this spring.
[
MLB
] | [
MiLB
]