Cleveland 13, Houston 2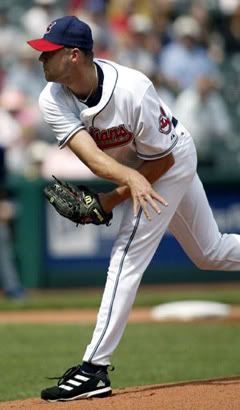 Cleveland's
Jake Westbrook
and six relievers combined for five hits in a 13-2 victory over the
Houston Astros
, with
Victor Martinez
getting three hits, including a three-run shot.
Westbrook allowed two hits, one walk and one run in two innings with five outs on grounders, including a double play by infield duo
Jhonny Peralta
and
Josh Barfield
.
Signed by Houston in December, 40-year-old W
oody Williams
allowed two runs and three hits in two innings, striking out two.
Jason Lane
homered and
Adam Everett
had an RBI single for the Astros.
Paul Byrd
followed Westbrook and gave up one hit over two scoreless innings, striking out two while
Rafael Perez
and
Edward Mujica
worked one hitless inning apiece for Cleveland.
Houston's
Brian Moehler
gave up three runs in one inning and
Juan Gutierrez
allowed two runs and four hits over two innings.
Lincoln Holdzkom
allowed five runs and four hits in 2/3 of an inning. Non-roster invitee
Mike Rose
and minor-leaguer
Alan Zinter
each had two RBIs for Cleveland.
Red Sox (ss) 11, Northeastern 0
Josh Beckett
allowed a single to the first batter then struck out five of the remaining six he faced as the
Boston Red Sox
split squad went on to an 11-0, 7-inning victory over
Northeastern
on Thursday.
Boston's Class-A third baseman
Scott White
, blasted a two-run homer in the fifth inning and then hit a grand slam in the sixth to bring it to 10-Zip.
The split squad also lost to Toronto 4-1 in Dunedin with a little help from
Aaron Hill's
two-run bomb in the fourth off of
Devern Hansack
.
They have two more home games on Friday -- in the afternoon against the
Toronto Blue Jays
and at night when
Daisuke Matsuzaka
makes his first spring training start against
Boston College
.
Cincinnati 9, Pirates 7
Josh Hamilton's
seventh-inning homer sailed over the flags above the batter's backdrop, fifty feet high and far beyond the 400-foot mark in center, highlighting the
Cincinnati Reds'
9-7 win over the
Pittsburgh Pirates
on Thursday, the exhibition opener for both clubs.
Brandon Phillips
and
Mark Bellhorn
each hit two-run home runs in the fifth inning off of Pirates' closer
Salomon Torres
, who allowed four hits and a walk in just one inning.
Luis Matos
, in camp on a minor-league contract, homered twice for Pittsburgh while top prospect
Andrew McCutchen
homered and doubled in his first two at-bats.
Reds starter
Eric Milton
gave up six hits and a walk in two innings, but only two runs - each on home runs - to McCutchen in the first and Matos in the second, but stranded four runners.
Pirates starter
Zach Duke
pitched two innings and gave up his only hit on Dunn's homer. They trailed 9-5 in the ninth, but with one out and the bags full,
Javier Guzman
bounced into a run-scoring forceout before
Rajai Davis
hit an RBI double. Guzman was thrown out at the plate for the final out.
[
MLB
] and [
MiLB
]