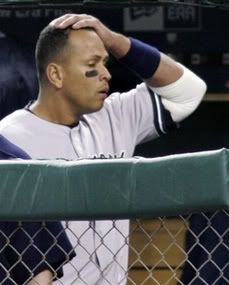 I know you all were picturing Derek Jeter just now, but think again. Alex Rodriguez is talking to the fans, this time.

A-Rod continues to claim that he will stay in New York with the Yankees, no matter what. It's where he's always wanted to play and where he wants to hang his cleats.

But, a loophole in his contract could allow him to choose free agency over a broken heart after this season.

In a WFAN radio interview on Tuesday, he threatened to use the option if fans did not embrace him. He says there were five or six teams this year dishing out the big bucks to lure him away from the Big Apple, but he chose to remain faithful, possibly in hopes that his middle-infield partner will take back his special friendship.

"It's a do-or-die situation. Listen. At some point, either New York is going to say, 'I've had enough of this guy, get him the hell out of here' — and we have an option — or New York is going to say, 'Hey, we won a World Championship, you had a big year, you're a part of it, we want you back.' "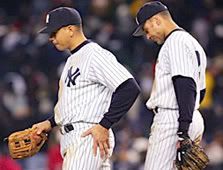 Rodriguez ignored Mad Dog's Jeter-related prodding, but when asked whether he had friends in the clubhouse, A-Rod laughed and said that he gets along "absolutely tremendously with everyone" and that maybe people pay a bit too much attention to his
romantic entanglements up the middle
personal life.
[
New York Times
]