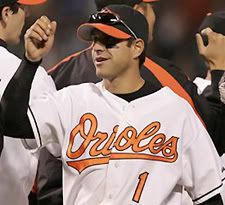 The Baltimore Orioles have finally locked down their leadoff hitter through the 2009 season, signing second baseman Brian Roberts to a two-year contract extension Wednesday, reportedly worth $14.3 million including a no-trade clause.

A month and a half ago, Roberts avoided arbitration by signing a one-year contract worth $4.2 million - a $1.1 million increase from last season.

The 29-year-old switch-hitter batted .286 with 10 home runs, 55 RBIs and a career-high 36 stolen bags last season, rebounding gracefully from offseason elbow surgery as he played in 138 games.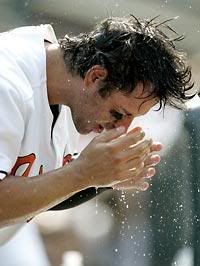 A fan favorite, especially among the ladies, Roberts has spent his entire career in Baltimore, batting .280 with 40 homers, 250 RBIs and 136 steals.

He enjoyed a career season in 2005 when he hit .314 with 18 longballs, driving in 73 runs and earning his only All-Star appearance.

[Baltimore Sun]