The
Twins
were hoping
Matt Garza
(L 3-6, 5.76 ERA) would match his last couple of outings Saturday against the
White Sox
, but he came up painfully short, lasting only 2.2 innings, giving up four runs on eight hits, walking two and striking out none in the Twins' 6-3 loss.
Matt held them scoreless until the third, when first baseman
Ross Gload
doubled with one out, third baseman
Josh Fields
drew a walk and designated hitter
Rob Mackowiak
did his job by doubling in the first run. Second baseman
Tadahito Iguchi
then hit a two-run single and stole second, moving to third on an
Alex Cintron
base hit.
Ryan Sweeney
then grounded out, scoring Iguchi.
After another walk for Garza,
Matt Guerrier
(3.36 ERA) came in for 4.1 innings of relief, allowing 2 more runs on 4 hits with 2 strikouts. One came in the fifth off a Sweeney single and another in the seventh from an Iguchi home run, his 18th of the year.
Jon Garland
(W 18-7, 4.51 ERA) held the Twins hitless through four and allowed only
Jason Tyner
(1 for 3),
Justin Morneau
(2 for 4) and
Luis Rodriguez
(1 for 4) to reach up until the eighth.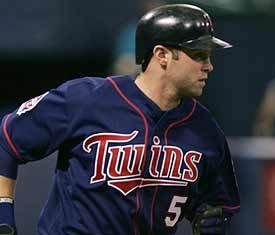 The Twins tried to put together a comeback in the bottom of the ninth when
Nick Punto
reached on a fielding error by Cintron. After an L-Rod strikeout,
Mike Redmond
(1 for 4) singled and
Michael Cuddyer
(1 for 4) blasted his second homerun in as many games (24) to cut Chicago's lead in half.

Cuddyer's three-run shot
Matt Thornton
(3.33 ERA) then replaced Garland, getting Morneau to ground out before giving up a liner to
Torii Hunter
(1 for 4).
Rondell White
then pinch-hit for designated hitter
Jason Kubel
(0 for 3) and grounded out to first, ending the game.
So, the Twins missed another opportunity to gain first place in the Division before the
Tigers
face the
Royals
later Saturday evening. Minnesota is now a half game back with one more to play.
Speculation: If Detroit wins today, the best the Twins can do is tie (which does them no good since the Tigers own the tie-breaker with a better head-to-head record) and face
New York
in the ALDS. If Detroit loses their last two games and the Twins pull Sunday's game off, they would win the Division and play the
Oakland A's
in the first round, gaining home field advantage with the better record.
The Twins may look to another rookie,
Scott Baker
(5-8, 6.37 ERA) for their last possible win of the season on Sunday against
Javier Vasquez
(11-11, 4.77 ERA) and the Sox. Baker's last outing vs.
Baltimore
on Spetember 23rd was cut short after 3.2 innings, giving up 3 earned runs on 7 hits.
Carlos Silva
will be used in the case of a Division Title still being up for grabs. He pitched 4 innings, allowing 5 runs on 6 hits in the Twins' 4-6 loss to Kansas City this past Wednesday. Vasquez has earned two straight losses, his last coming in
Cleveland
where he tossed seven innings, giving up 6 runs on 6 hits.
Batting Title Watch:
Joe Mauer
(.346 avg) rested during Saturday's tough loss to the White Sox.
Derek Jeter
(.341) and
Robinson Cano
(.342) will look to play catch up with Joe during the Yankees' 4pm game against the
Blue Jays
. Look for updates in the comments section.
MVP Action for Saturday, September 30, 2006...
Justin Morneau:
2 for 4 | .321 avg | 129 RBI | 34 HR
Johan Santana:
19-6 | 2.77 ERA | 245 K | 233.2 IP
Derek Jeter:
4pm vs. Toronto